BULGARIA
Rousse 7004, 89 Pliska Str., bl."Aheloi"-1, vh.J, et.2, ap.3
Georgi Andreev Stoianov
phone 00359-82-45-42-41, fax 00359-82-22-28-22
Iambol, phone 00359-46-48-600, fax 00359-46-63-457 - Zdravko Zahariev
podem@infotech.bg
Machine for building cement (cylindrical) ovens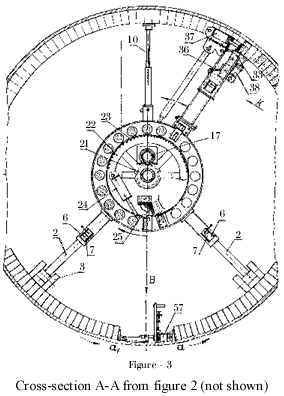 The machine is designed for the building of areas with worn out brickwork, for current or thorough repairs and new ovens. The bricks are being built in a ring in a full automatic regime and in a hospital position of the cement oven.
The machine is fixed on radially strenuous wheels and its moving is self-propelled. Mechanisms for taking and passing the bricks to the place of the finish building are mounted to the frame.
There is a station for loading the bricks outside the oven and by means of conveyers and other mechanisms the bricks enter the machine and the corpus of the oven, where there are mechanisms for pressing and holding the bricks and the ring to the cement oven.
The solution is also laid automatically and the wedging of the ring is done in the lowest part of the oven during the building, from one man and without welding any metal.
The machine has a folding structure - it is easily transported with a lorry.
I am willing to concede the exclusive license through a licensing contract to those, who want to buy the license of the machine for building. The price is negotiable and will be set in the process of the business talks.
Please, contact me at the above address if you are interested in buying the license for which I thank you in advance.
***The machine can be manufactured with omnidirectional equipment and special steel is not needed.

The machine is acknowledged as an invention and it was patented in 1994.
The author-patentee is MSc Georgi Andreev Stoianov from Rousse, Bulgaria.

TECHNICAL DATA
N

Names of the major indices

Value

1.
* Note: The indices given below are valid for a cement oven
with a diameter of 5 000 mm.
2.
Performance of the machine:
- Bricks:
- Running meters
- Number of rings

900 per hour
1 per hour
5 per hour
3.
Maintaining staff:
- A specialist to operate the machine
- Driver of battery-operated truck
- Loading the conveyer outside the oven with orientation of the bricks
- Preparation of the solution and the loading of bricks
- Wedging of the ring with bricks

1
2
2
1
1
4.
Dimensions:
- length
- width - transport:
- height - transport:

3 000 mm
1 600 mm
2 600 mm
5.
Weight:
about 4,5 t
---
Other invention: Machine for mechanized seed removing from the pepper